C O N C E R T S
2022 Ju Percussion Group

Annual Concert
A Hero's Radiance –– Chiang, Wei-Shui Awakens Taiwan
Fearlessly forging ahead ceaselessly pursuing freedom and justice the hero shines a brief but radiant light

A hundred years ago, during the Japanese Taisho Democracy period that followed World War I, intellectuals of the Taiwanese Cultural Association drew up various blueprints for creating an ideal homeland, enriching Taiwanese society with nutrients drawn from diverse thought trends. It was a period of cultural transition between old and new, a golden age of intellectual awakening!

Director Lee, Hsiao-Ping , scriptwriter Shih, Ju-Fang, and composers Hung, Chien-Hui, Koji Sakurai, Yang, Tsu-Yao, and Tsai, Yun-Tien revisit that glorious era, presenting scenes from the life of democracy pioneer Chiang Wei-Shui in music. The rich sounds and imaginative scenarios recapture the years of Taiwan's intellectual awakening, immersing audiences in the world of Chiang Wei-Shui's life and the times.

The brisk rustle of the writing brush, the metallic clang of prison chains and shackles… The rich, percussive tonalities not only represent the historic Taiwanese Cultural Association but also embody Chiang Wei-Shui's century-spanning call to modern society. Choral and theatrical elements, instrumental music, and vocals intertwine and resonate, inviting us to follow sonic clues and trace history's vestiges, urging us to ponder how our forbears' ceaseless struggles and penetrating insights opened the way for the freedom of expression we enjoy today.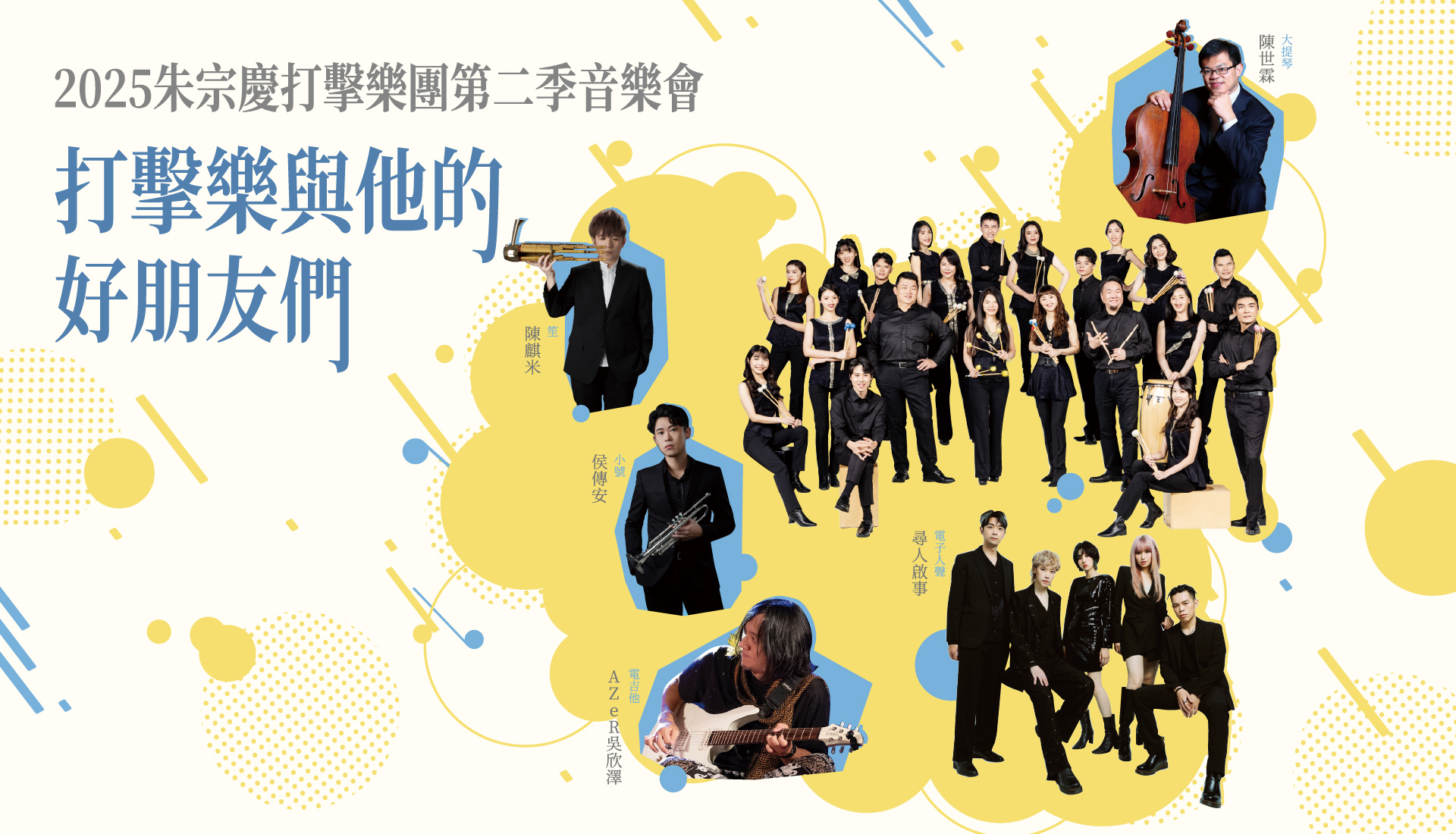 左右滑動看表格
2022 A Hero's Radiance –– Chiang, Wei-Shui Awakens Taiwan
Performance Time
Location

10/6/2021 (THU.) 7:30pm

Taiwan/Taichung/National Taichung Theater Grand Theater

10/29/2022 (SAT.) 7:30pm

10/30/2022 (SUN.) 2:30pm

Taiwan/Taipei/National Concert Hall

111/2022 (TUE.) 7:30pm

Taiwan/Kaohsiung/National Kaohsiung Center for the Arts (Weiwuying)- Concert Hall
Program:
OVERTURE
Song 1|SERENADE
Song 2|BEHIND BARS
Song 3|GUILTY OF WHAT?
Song 4|Congratulations–– Reaching New Heights
Song 5|A CHANCE ENCOUNTER AT BEIGANG'S XIDI
Song 6|A HERO'S RADIANC
Artistic Director | Ju, Tzong-Ching
Producer | Chiang, Li-Jung
Director | Lee, Hsiao-Ping
Playwright | Shih, Ju-Fang
Composer | Hung, Chien-Hui / Koji Sakurai / Yang, Tsu-Yao / Tsai, Yun-Tien
Chorus Instruct | Chen, Li-Fen Lighting
Designer | Che, Ko-Chien Costume
Designer | Lin, Bing-Hao Set Designer | Chen, Hui Taiwanese
Instruct | Hsu, Tzer-yaw Graphic
Designer | Wu, Zi-Yi
Performer│Ju Percussion Group
Wu, Shih-San
Ho, Hong-Chi
Wu, Pei-Ching
Hwang, Kuen-Yean
Lee, Pei-Hsun
Lu, Huan-Wei
Chen, Hong-Yueh
Chen, Miao-Fei
Tai, Han-Chih
Peng, Ching-Yin
Kao, Han-Yen
Lee, Tsui-Yun
Performer│Vocal Ensemble
Wang, Shiuan-Wei
Lyu, Jihong
Lee, Ming-Jaw
Lin, Wei
Hsia, Cheng-Hsuan
Chang, Yu-Ho
Hsu, Yu-Chen
Chen, Kuang-Chan
Chen, Chun-Nan
Chen, Xuan-Hui
Chen, Jie-yi
Su, Ko-Li
Huang, Kuei-Lin
Huang, Chieh-Ling
Liao, Zi-Tang
Pan, Chih-Yun
Chung, Yi-Hsiu
Wei, Sin-You
Han, Chi-An